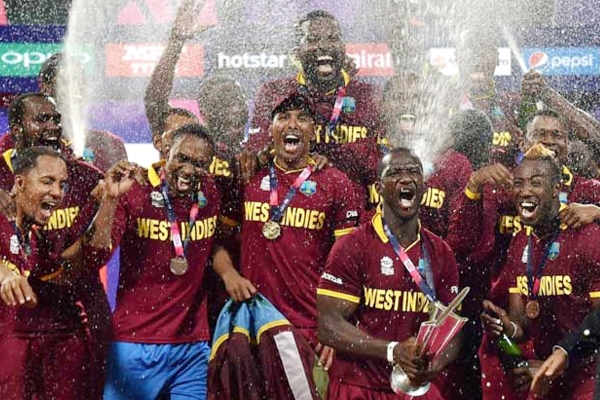 The most dramatic end to world cup final in World T20 2016. On Sunday, in Kolkata, Marlon Samuel helped West Indies wrap the title with 6,6,6 and 6 in the last four balls of the match. Samuels's 85 (not out) helped in chasing down  the target of 156 runs with two balls remaining. See below, few reactions on twitter later on.
Shane Warne: Seen a lot of things over 25 yrs being involved in international cricket. But nothing quite like that finish to a game 6 6 6 6 congrats WI !
Kumar Sangakkara: Amazing game. What a performance by the Windies. Strong belief, stronger faith. What a statement in more ways than one. #Caribbean flair
Sachin Tendulkar: WI all the way!! True champions, be it u19s, women's or men's championship! Super stuff by team WI! Brathwaite was breath taking! #WT20Final
Shahid Afridi: Brilliant is the word..Super performance WI.. Well done Eng.. Overall Cricet is the Winner!!! A fairytale Ending @darrensammy88
Also read: West Indies board reprimands Captain Sammy after WT20 2016
After a stunning victory of West Indies in the ICC World T20 2016 final against England, West Indies skipper Darren Sammy launched an emotional speech. He attacked West Indies Cricket Board (WICB) for failing to communicate with them and termed the attitude 'disappointing'. Hours later, the West Indies board publicly reprimanded captain Darren Sammy.
- Sumana