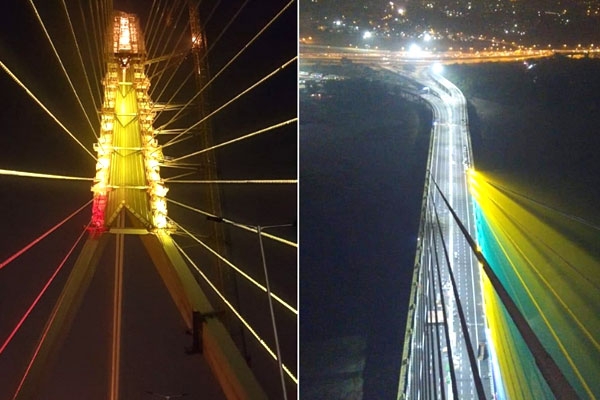 (Image source from: Zee News)
New Delhi's 'Signature Bridge' was inaugurated on Sunday and is being marked as the national capital's own Eiffel Tower.
But, more than the Paris' iconic monument, the tower structure was meant to imitate the gesture of saying 'Namaste', which is a customary Hindu greeting. 
Delhi! Here is your pride ..The Signature Bridge ..
Ready to welcome you tomorrow for inauguration ceremony.. 4pm onwards.. Sunday. 4th Nov. pic.twitter.com/kVicLkACWh

— Manish Sisodia (@msisodia) November 3, 2018
The 'Signature Bridge' stretches across the city's main river, the Yamuna, connecting the eastern end of the city to the western end. The intent is to decongest the roads and help daily commuters that normally have to tolerate backbreaking traffic jams.
In fact, the journey from the outskirts of the city to the center usually takes 45 minutes. But, with the bridge, the Indian government is claiming that the journey time will likely be cut down to just 10 minutes instead.
Furthermore, the bridge would save on the fuel consumption and help contain the capital's abysmal air quality.
But, in its likeness to the Eiffel Tower, there is a glass box on top of the bridge at 154 meters that serves as the viewing gallery. There are four elevators that can bring people up to box, which in turn, can support up to 50 visitors at one time.
Regrettably, the viewing gallery has not quite been completed yet, which is why the Delhi Tourism and Transport Development Corporation (DTTDC) will close the bridge for a couple of hours (11 p.m. to 5 a.m.) for a month following Diwali.
Even if you can't go up to the gallery, there are designated selfie spots to stop and pose for pictures along the 575-meter bridge.
Inaugurated by the city's Chief Minister (CM) and Deputy CM, Arvind Kejriwal and Manish Sisodia, the 'civil engineering spectacle' was primitively meant to launch fourteen years ago. That is an unreasonable amount of time even taking into consideration that infrastructure projects don't normally run on dedicated deadlines in India.
It took ₹15.18 billion to eventually open the bridge to the public with Kejriwal claiming that Delhi's newest tourist spot would entice, not only local but international visitors. He added that the Signature Bridge will be at par with the Qutub Minar and India Gate with respect to its popularity.
The new landmark is already twice the height of the latter.
-Sowmya Sangam