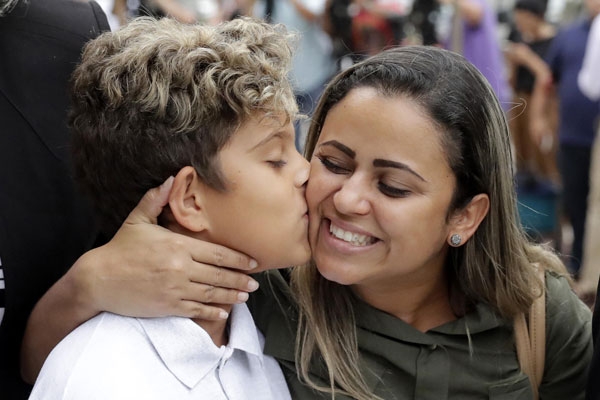 (Image source from: The Spokesman-Review)
The asylum-seeking parents who have been confined in Washington state after being separated from their children have started to be released from detention, advocates said on Wednesday, but it remains ill-defined when they might see their children again.
The Northwest Immigrant Rights Project in Seattle said it knows of 55 people detained at the U.S.-Mexico border before being separated from their children and transferred to Washington under President Donald Trump's zero-tolerance policy.
An immigration judge freed one, Yolany Padilla, a 24-year-old from Honduras, on $8,000 bond from the Northwest Detention Center, a private immigration jail in Tacoma, on Friday — seven weeks after she crossed the border illegally in Hidalgo, Texas. Another was released Monday and three more on Wednesday, the organization said.
Padilla's attorneys told a news conference Wednesday her 6-year-old son remains in federal custody in New York, and it's unclear when the government will release him to her. They declined to provide further details about Padilla's background, citing the sensitivity of her asylum case.
Padilla is a named plaintiff in a class-action lawsuit the Northwest Immigrant Rights Project have filed challenging the family separations. U.S. Immigration and Customs Enforcement has declined to comment on her case.
One of her attorneys, Leta Sanchez, said authorities have been demanding that Padilla goes through several hoops before she and the boy are reunited. Those include a background check and resubmitting fingerprints, even though immigration officials have repeatedly taken her fingerprints since her detention.
In order to reunify the separated families this week, the administration has been struggling to meet the first of two deadlines set by a San Diego federal judge who ordered thousands of children be given back to their parents. The detached children from their parents at the U.S-Mexico border were sent to government-contracted shelters or foster care hundreds of miles away from where their parents were detained.
By Sowmya Sangam