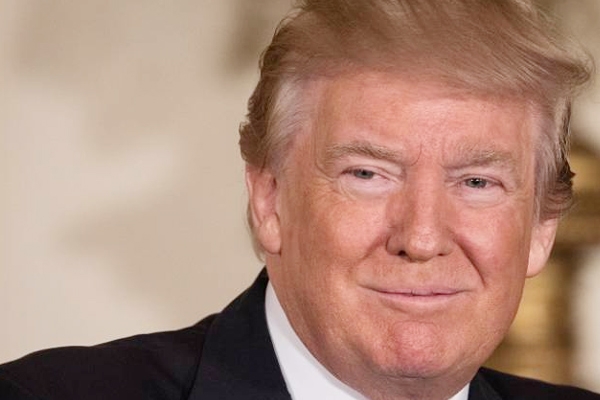 On Saturday, President Donald Trump has ended the decade long tradition of celebrating Ramadan in White House and later on he extended his "warm wishes" to the Muslims of the country on the auspicious occasion of Ramadan.
"On behalf of the American people, Melania and I send our warm greetings to Muslims as they celebrate Eid al—Fitr. During this holiday, we are reminded of the importance of mercy, compassion, and goodwill," Donald Trump said, on Saturday.
Iftar one of the religious observances of Ramadan, which was held at the sunset, a day before the Eid, was not held in this year for first time in the two decades. The tradition of celebrating Ramadan in White House started way back in the year 1996 and was first hosted by the former First Lady Hillary Clinton. The dinner had been hosted for 150 people after Clinton has learned more about the culture. Since then, the tradition has been followed by all the reigning presidents. However, the tradition has been called off with under the rule of President Donald Trump.
Iftar dinner has been typically hosted by the Presidents and the dinner was attended by the prominent members of Muslim community, the members of Congress and also the diplomats from various Muslim countries. "Dinner will be on the table precisely at sunset – " read the invitation."The favour of an answer is asked."
A statement has been issued by the White House on late Saturday night. The statement read,"Muslims in the United States joined those around the world during the holy month of Ramadan to focus on acts of faith and charity. Now, as they commemorate Eid with family and friends, they carry on the tradition of helping neighbours and breaking bread with people from all walks of life. During this holiday, we are reminded of the importance of mercy, compassion, and goodwill. With Muslims around the world, the United States renews our commitment to honour these values. Eid Mubarak."
Earlier in this year, Secretary of the State Rex Tillerson had said that they will not hold a Iftar dinner party this year. In a statement, Tillerson said, "This holiday marks the culmination of Ramadan, a month in which many experience meaning and inspiration in acts of fasting, prayer, and charity. This day offers an opportunity to reflect on our shared commitment to building peaceful and prosperous communities. Eid Mubarak."
George W. Bush, the former President of US had also hosted the Iftar every year during his two terms. Bush has even hosted Iftar just after the 9/11 attacks. Bush, after the 9/11 Iftar dinner, said that the fight of US was against terrorism and not Islam.
Tata to jointly make F-16s with Lockheed Martin under "Make In India"
Mrudula Duddempudi.