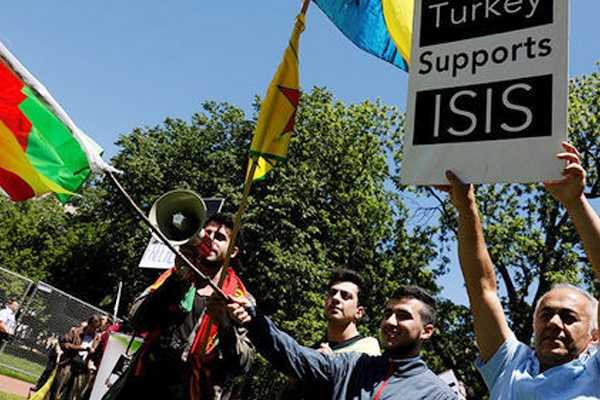 Two Turkish-Americans, who are accused of attacking American demonstrators outside the Turkish Embassy in the United States capital, Washington D.C. during President Recep Tayyip Erdogan's visit last month, have been arrested on Wednesday.
According to reports, one of the suspects identified as Eyup Yildirim was apprehended in Manchester, NJ and the other, Sinan Narin in McLean, Va. Both the arrest warrants were proceeded by U.S. Marshals in coordination with the Metro Police Department in Washington D.C.
A senior State Department member said: "Now that charges have been filed, the Department will weigh additional actions for the named individuals, as appropriate under relevant laws and regulations."
He added: "Any further steps will be responsive and proportional to the charges."
President Erdogan's visit to the Untied States in May sparked provoked an outrage when a video footage posted in social media showed Erdogan's security beat American protestors.
The footage showed protesters covered in blood, as others were beaten to the ground.
Witnesses said that the brawl erupted when the security personnel attacked people who were demonstrating protest carrying the flag of the Kurdish PDY party outside the embassy, hours after the Turkish President met with US President Donald Trump at the White House. Turkey considers the PDY a terrorist organization.
The brawl has been the source of major tensions between U.S. officials and Ankara. U.S. Sen. John McCain, R-Ariz., said in the immediate aftermath that the U.S. should "throw their ambassador the hell out" of the country.
The Turkish Embassy had blamed the violence on the demonstrators. In a statement, the embassy said that they were "aggressively provoking Turkish-American citizens who had peacefully assembled to greet the President."
The State Department spokesperson, Heather Nauert said, "Violence is never an appropriate response to the free speech, and we support the rights of people everywhere to free expression and peaceful protest."
Police arrested fake nurse buying blood from people
AMandeep