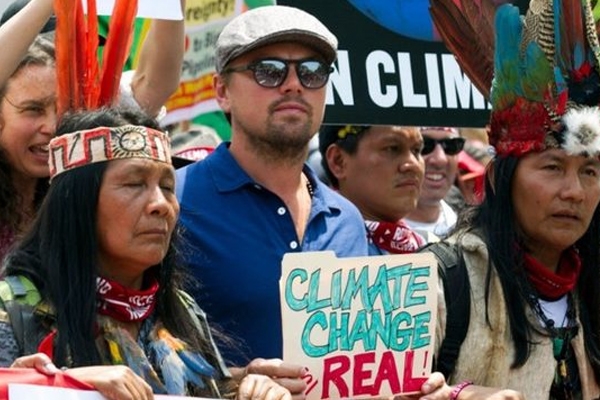 The world's one of the most famous celebrities and Oscar award winner, Leonardo DiCaprio took a stand over the weekend, when he supported the Climate Change March on Washington, D.C.
Reportedly, the actor even met with indigenous leaders after making an appearance at the march on Saturday.
The 42-year-old kept a low-profile during the march. He wore a newsboy cap and sunglasses and his message was loud and clear as he held a sign that read "Climate Change is Real."
The march was scheduled on President Trump's 100th day in office and it was held to protest the reversal of restrictions on mining, oil drilling and greenhouse gas emissions at coal-fired power plants.
"Honored to join Indigenous leaders and native peoples as they fight for climate justice. Join me in standing with them. #ClimateMarch," DiCaprio posted on Twitter following the event.
DiCaprio posted on his Facebook page that he met with Manari Ushigua, president of the Sápara Nation of Ecuadorian Amazon, who told DiCaprio about the damage oil drilling is doing to their land.
"Today's #ClimateMarch leaves me inspired & hopeful for our future," DiCaprio tweeted after the march. "We must continue to work together & fight for #climatejustice."
DiCaprio even mentioned about the climate change in his 2016 Oscars acceptance speech.
"Climate change is real, it is happening right now, it is the most urgent threat facing our entire species and we need to work collectively together and stop procrastinating," he said as he accepted his first-ever Oscar for his work in "The Revenant."
Indian-origin comedian roasts President Trump at White House
AMandeep