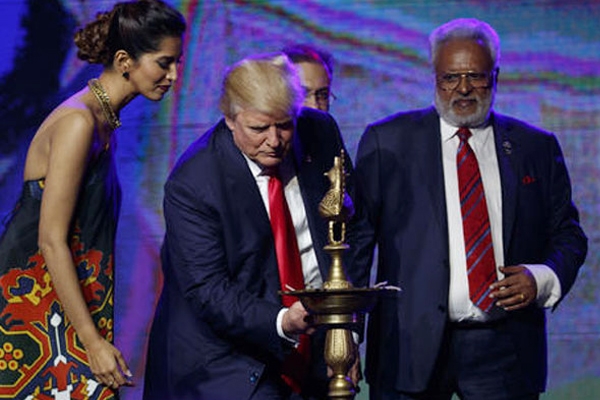 The Indian-American people who attended the Donald Trump's presidential inauguration, including 'Prakash Hinduja' a successful industrialist felt highly confident about the prospects of India and United States relationship under the new Trump administration.
Prakash Hinduja said "Under Donald Trump's administration India's and United States relationship will set for a new beginning". Hinduja attended various inaugurations including swearing in ceremony at the Capitol Hill in Washington and presidential ball.
During a pre-inauguration dinner at the Union Station on 19th January (Thursday) Hinduja had a brief interaction with Donald Trump.
After attending inauguration related events and interacting with officials and leaders of the Trump's administration. Hinduja said that Donald Trump wants to strengthen their ties with India.
While there is no official record yet, that how many Indian-Americans have attended the inauguration related events, the estimated count is to be that over hundreds of Indian-American's have attended the events.
Sampat Shivangi from Mississippi an old time Indian origin Republican, said the relation between India and the United States has always been great under Trump administration".
Puneet Ahluwalia, who was the finance chair of the Asian American presidential inaugural ball said, Indian-origins are going to be the great strong pillar of this relationship.
In a response to a question Puneet said that they want India-United State's tie proceed to the next level and he see's a desire and commitment in this regard from the Trump Administration.
Raju Chintala from Indiana, who is one of closest acquaintances of the Vice President Mike Pence felt that the Trump's administration would focus on defense and economic ties with India.
Balasaheb Darade who was a scientist at NASA, now returned to India for "non-profit work" was among the few Indian-origin people, who briefly met Trump during one of the inauguration related celebrations.
Balasaheb was joined by 'Mahaveer Jain' who is a Bollywood movie producer and industrialist.
Mahaveer Jain said "When they met Donald Trump and said that they were from Mumbai in India, Trump instantly responded saying that he loves Mumbai and he loves India.
A D Amar, who was among the first few Indian-Americans to have come out in open support of Trump by forming Indian Americans for Trump exuded confidence that there is a "great interest" in the new administration to "strengthen and deepen" ties with India in the years to come.
Trump Administration pace to restrict H-1B visa
AMandeep