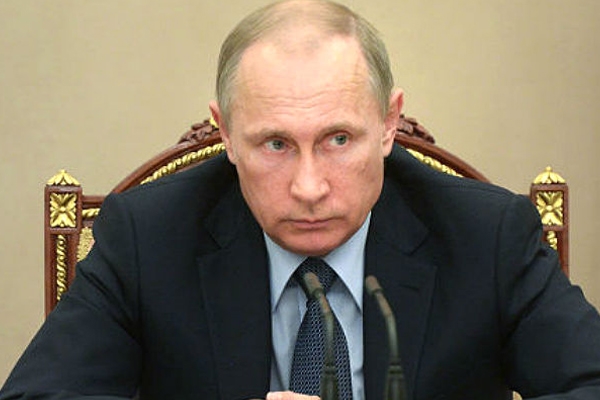 President Vladimir Putin suspended a deal with the United States on the disposal of weapons-grade plutonium, the latest sign of worsening bilateral relations.
A strain in ties between the former Cold War rivals has escalated in recent weeks followed the collapse of a truce in Syria and the Syrian army's massive onslaught in Aleppo under the cover of Russian warplanes.
In a decree, President Vladimir Putin accused the US of creating "a threat to strategic stability, as a result of unfriendly actions" towards Russia, as well as Washington's failure to meet its end of the deal. It said, however, that Russia will keep the weapons-grade plutonium covered under the agreement away from weapons programs.
The agreement, which was signed in 2000 and expanded in 2006 and 2010, Russia and the U.S. each were to dispose of 34 metric tons of weapons-grade plutonium, enough material for about 17,000 nuclear warheads.
Putin's spokesman Dmitry Peskov said that, "Russia has been observing the agreement unilaterally for quite a long time, but now it no longer sees such a situation as possible amid the tensions.''
According to Sergei Kiriyenko, the head of the state-controlled Rosatom nuclear corporation, while MOX makes sure that weapons-grade plutonium can't be used for any military purposes, the U.S. intention to dilute and stockpile the material means ``it could be dug up again.''
The Russian Foreign Ministry said while commenting on Putin's move that, the US has "done all it could to destroy the atmosphere encouraging cooperation,'' citing US sanctions on Moscow over the Ukrainian crisis and deploying NATO forces near Russian borders.
The Foreign Ministry said that, "We would like to bring Washington back to understanding that it can't introduce sanctions against us in areas where it's quite painless for the Americans, and at the same time continue selective cooperation in areas it sees as advantageous."
He added that the US should also "renounce its unfriendly policies'' by revoking anti-Russian sanctions and compensating Russia for the damage incurred by them and by "putting forward a clear plan for the irreversible disposal of the weapons-grade plutonium in line with the agreement.''   
Also Read: Hillary Clinton fears nuclear suicide bombers from Pakistan!
Nandini