Meeku Maathrame Cheptha Movie Review, Rating, Story, Cast and Crew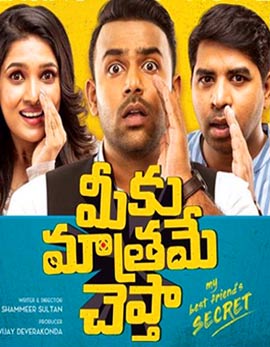 Rating:

Director:

Shammeer Sultan

Cast:

Tharun Bhascker Dhassyam, Abhinav Gomatam, Naveen George Thomas, Anasuya Bharadwaj

Banner:

King of The Hill Entertainement

Producer:

Vardhan Deverakonda, Vijay Deverakonda

Music:

Sivakumar

Release Dt :

Nov, 01 2019
Story
Young and talented actor Vijay Devarakonda is making his debut as producer with Meeku Maathrame Cheptha. The movie is all about a viral video of Rakesh (Tharun Bhascker) days before he is about to get married. The video goes viral all over and the rest of Meeku Maathrame Cheptha is all about the consequences that Rakesh faces due to the video. A series of twists and turns make Meeku Maathrame Cheptha more interesting. Watch the film to know about the complete story and the culprit behind the video leak.
Analysis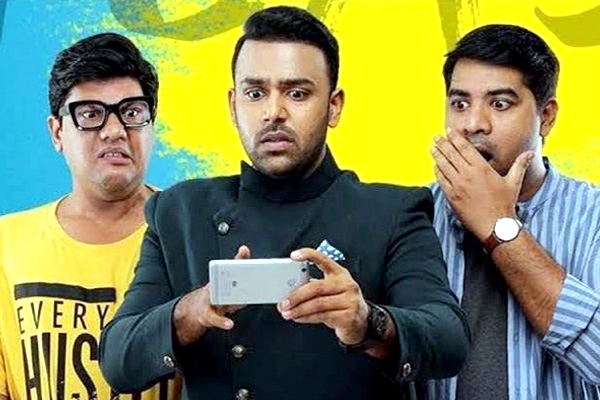 Meeku Maathrame Cheptha has a decent first half and it is laced with loads of entertainment. The comedy is the major USP of Meeku Maathrame Cheptha. Tharun Bhascker and Abhinav tops the show with their flawless comic timing. The suspence has been well maintained and a crisp runtime makes the first half of Meeku Maathrame Cheptha completely engaging and interesting. The background score and the performances support the first half well.
After a decent first half, the second loses trace and deviates from the plot. A bunch of unwanted episodes make place though some of the episodes are thorougly entertaining. The production values are quite low and the film lacks good locations and colorful presentation. Once again it is the performances by the lead actors that drives the film further. On the whole, the second half of Meeku Maathrame Cheptha is a disappointment.
Performance
Tharun Bhascker is a treat to watch and he has been outstanding with his performance in the role of Rakesh. He is the major highlight of Meeku Maathrame Cheptha and his role was penned well. Abhinav takes the other lead role and he has been well supportive. His comic timing has been top class and is a huge advantage for the film. Anasuya delivers a decent performance in her role and she is a treat to watch. Vani Bhojan, Avantika Mishra and Pavani Gangireddy are good in their assigned roles and they looked apt. All the other actors have been decent in their roles.
Meeku Maathrame Cheptha has a lean plot and is all about a video of the lead actor that goes viral. The screenplay and dialogues of Meeku Maathrame Cheptha look decent. The entertainment is the major USP of the film. The background score has been decent and the cinematography work should has been better. The production values are extremely poor and the visuals are a huge disappointment. First time director Shammeer Sultan excels in his role and he has been decent with his work.
Final Word
Meeku Maathrame Cheptha looks good in parts and has a decent plot. The second half misses the magic and ends up as a below average film.
Stills from this movie
Videos & Trailers