Shamantakamani Movie Review, Rating, Story, Cast and Crew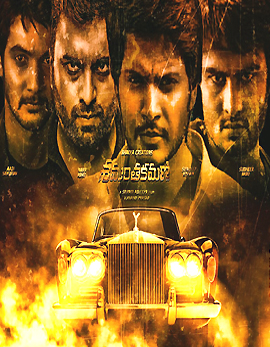 Rating:

Director:

Sriram Adittya

Cast:

Nara Rohit, Sundeep Kishan, Aadi, Sudheer Babu, Rajendra Prasad

Banner:

Bhavya Creations

Producer:

V. Anand Prasad

Music:

Mani Sharma

Release Dt :

Jul, 14 2017
Story
Shamantakamani is the story of a car which gets stolen from a posh locality of Hyderabad. The case will be taken over by Inspector Ranjith (Nara Rohit) and the film shifts towards the flashback which introduces the lead characters (Sudheer Babu, Sundeep Kishan, Aadi Saikumar and Rajendra Prasad) of the film. All the characters party in Provotel hotel where the vintage Rolls Royce will be stolen. Inspector Ranjith manages to arrest all the suspects and the rest of the film is all about what happens next. The rest of Shamantakamani is all about who steals the vintage car and how the film ends. Watch Shamantakamani to know about what happens next.
Analysis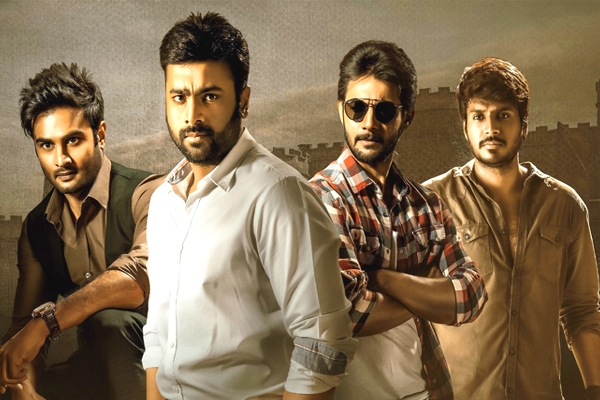 Shamantakamani has an interesting star cast lined up because of which lot of curiosity surrounded the film. The first half of Shamantakamani starts on an interesting note however it could not be maintained for much time. The introduction of the lead characters should have been taken enough care and it just reminds us about many films. The first half of the film turns interesting only during the interval episodes after the car gets stolen. The first half of Shamantakamani is just ok and the result completely depends on how the second half has been dealt.

The second half of Shamantakamani dips down gradually at the much needed time. The investigation process looks pale and it has not been executed well. Though the entertainment has been decent at parts, Shamantakamani makes no impact in the second half. Except the climax twist, the audience will not be thrilled at any part. The only saviour for the second half is the background score by Manisharma.
Performance
All the young actors have been impressive in their own style on screen. Nara Rohit, Sudheer Babu, Sundeep Kishan and Aadi Saikumar should be appreciated for teaming up for a multi-starrer. Nara Rohit has been extremely impressive as cop and his character takes the lead. All the other actors delivered out their best. Rajendra Prasad has been extremely entertaining and energetic. He carried some of the episodes well. All the other actors delivered out their best for the film.

The story of Shamantakamani has been new in line but it is the execution that makes the difference. The thin story line seems not so engaging because of the poor screenplay and the bad execution. Manisharma's music work has been exceptional and Sameer Reddy's camera work has been impressive. The production values have been lavish and Sriram Aditya fails to make a huge impact with some interesting star cast.
Final Word
Shamantakamani is a huge disappointment as the film offers nothing interesting. All the lead actors have been utterly wasted though the film offers decent entertainment at parts.
Stills from this movie
Videos & Trailers