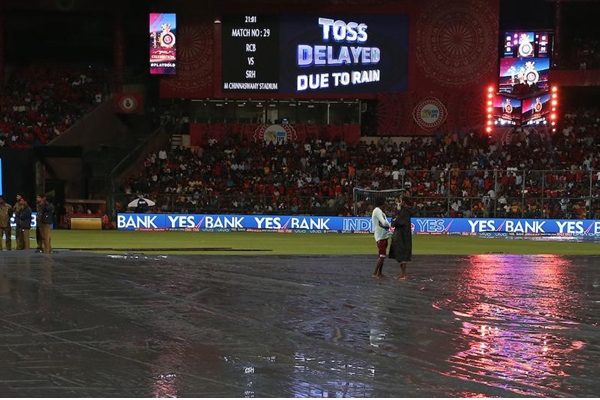 The second-leg match between Sunrisers Hyderabad and Royal Challengers Bangalore was called off without a ball being bowled as incessant rain made the ground unplayable.
Both the teams got one point each from the abandoned match at Chinnaswamy Stadium, Bengaluru.
Rain lashed Bengaluru in the evening, but stopped about an hour before the match. It seemed that the match would go ahead as scheduled and Bangalore players even started warming up on the ground.
But, just before the scheduled toss time it began drizzling and it continued non-stop. Later, the rain intensified and the match was dismissed.
Though the cut-off time for a five-over shootout match was 11.26pm, the umpires called off the match at around 11pm.
With a point, the home team jumped to sixth spot with 5 points from 8 matches, while Hyderabad remained at third with 9 points from 8 matches.
Hyderabad had won the first leg between the two sides, which was the first match this season by 35 runs in Hyderabad.
RCB were looking to come out of the embarrassing batting debacle when they were all out for just 49 in their last match against Kolkata at Eden Gardens.
On the other hand, Hyderabad wanted to notch up their first away win this season.
AMandeep