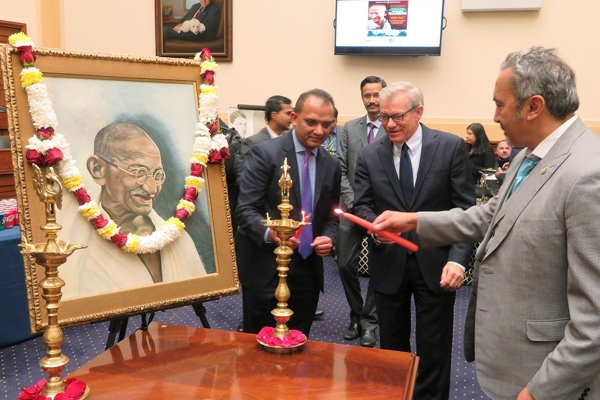 (Image source from: www.americanbazaaronline.com)
The year-long celebrations marking 150th anniversary of father and founder of Indian nation Mahatma Gandhi, commenced on Capitol Hill with United States lawmakers, community activists, senior Indian diplomats, gathering in the Rayburn House Office Building.
Speaking at the "inspirational event" on Gandhi and his legacy, Ambassador Navtej Sarna said, "We know him as the father of the nation. We know him as the person who led India's struggle against colonialism and actually got us our freedom. But, I think he was so much more than that. He was one of those rare human beings who actually lived his life to his own standards which he set, which nobody asked him to set, and which he discovered for himself."
With Indian-American congressman Raja Krishnamoorthi by his side, the diplomat noted, "It is appropriate that this event is being held in the House of the lawmakers because I think people like Raja are working with a vision of society and anybody who is a visionary, who is looking at correcting the wrongs of society, cannot but take inspiration from Mahatma Gandhi whose entire life was, as he said, 'my life is my message'. Everything that he did was based on certain values, a rock hard discipline which would not let him depart from those values and beliefs."
Reflecting on Gandhi's legacy, Sarna said, it is "a time to remember, a time to reinforce, a time to apply those teachings and those messages to our life." The U.S. capital city, he noted, is well acquainted with India's independence leader through the Gandhi Memorial Center, and his statue situated on public land across from the Indian Embassy which was approved by the U.S. Congress.
With the help of lawmakers like Krishnamoorthi and the "tremendous Indian-American community," we will see more developments like this, said the ambassador calling them a "win, win, win."
Noting that Indian Americans voted across the country in this year's midterm elections, Krishnamoorthi implored members of the community to do more: to run for office, but with a caveat – not to run for Congress from Illinois's 8th congressional district which he represents.
The lawmaker pointed out that Ambassador Sarna will be retiring in two weeks after 38 years of service to India which was received with a round of applause.
Congressman Ami Bera of California who has the distinction of being the longest-serving Indian American member of Congress believed it is important to reflect on the lessons that Gandhi taught in today's somewhat "chaotic times and often chaotic politics - his lessons of putting service and humanity first, and addressing injustices with strength. It is not passive resistance," he said noting "it takes a lot of courage to do what he did. Gandhiji showed us what that path forward is," said the lawmaker who has served as the Democratic co-chair of the House India Caucus.
Republican Congressman David Schweikert of Phoenix, Arizona, informed the gathering that the second most common religion in his state is Hinduism. Urging the community to stay engaged, he said, "We need to communicate to members of Congress the complexity of issues facing Indian-Americans."
Representing the business community at the event, Hariani said, "It is appropriate that we are celebrating Gandhiji's 150th birth anniversary today on Giving Tuesday. He is one of India's greatest gifts to the world."
The event in Capitol Hill was organized by the Embassy of India in Washington jointly with multiple partner organizations.
-Sowmya Sangam