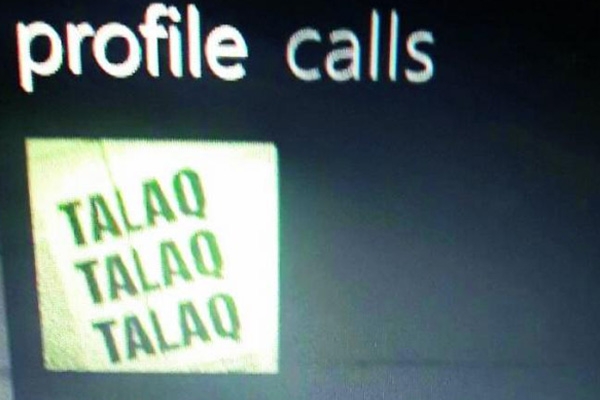 An NRI husband divorced his wife by setting an image having the word "talaq" (divorce) written thrice as his Whatsapp profile picture.
The woman's parents said that her husband's brother did same to his wife and it is a matter of serious concern as people are using misusing talaq. He sent the divorce notice to us and set his Whatsapp profile picture as talaq", her mother said.
The allegedly divorced woman said that she has been cheated by Md. Abdul Aqeel, who made false promises to keep her happy after their marriage and take her to the United States. "Instead, they used me as a maid along with the elder daughter-in-law of the family," she said.
A few days ago her husband sent her a text message on WhatsApp saying 'talaq talaq talaq'. Upon getting the message, she informed her parents. Meanwhile, her in-laws sent her back to her parent's house, saying that she does not have any right to stay in their house anymore."
"Talaq cannot be given in such a manner by any man. In order to give talaq, both the husband and wife should be present in front of each other and tell the world personally. And there should be a gap of 40 days between every utterance of talaq", the woman's mother said. "How can the father of the husband declare talaq and send my daughter back to our home", she added.
The police said that they have arrested the husband's parents and booked them under Sections 307 (attempt to murder) and 354 (outraging the modesty).
Punjab withdraws NRI quota from AYUSH Colleges
AMandeep