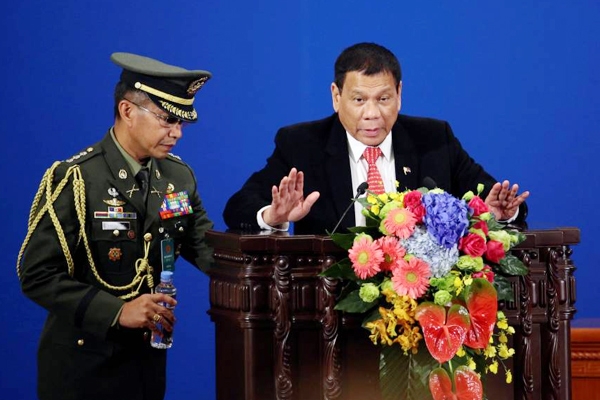 As Philippines rebalances its diplomacy towards China, the country's President Rodrigo Duterte declared his "separation" from long-standing ally the United States in Beijing.
Mr. Duterte, who is on a four-day trip to China seen as confirming his tilt away from Washington and towards Beijing's sphere of influence and its deep pockets.
"I announce my separation from the United States," he said to applause at a meeting in the Chinese capital. "Maybe because I am Chinese, I believe in sincerity," he said.
"The only hope of the Philippines economically, I'll be frank with you, is China," he continued. "This visit (to China) is the defining moment of my presidency."
"I would say that China deserves the kind of respect that China now enjoys."
"This is the start of a souring of relations with America", he added, before retracting his comment and saying he was not "breaking away from the US" but merely wanted to be "friends with everybody".
Mr. Duterte has also suspended joint U.S.-Philippine patrols in the strategically vital South China Sea, and has threatened an end to joint military exercises.
Also Read: Pak envoy calls Obama a 'guest' in White House!
Nandini